The Bruny Island Race was first held on Saturday 19 March 1898 and was originally called The Ocean Race, it is Australia's oldest ocean yacht race. That year only local cruisers on the Derwent Sailing Club register could enter.
Although it was not held during the war years it has been held almost continually since 1946 when it was reintroduced. This year marks 120 years since the races inception. Run by the Tasmanian Yacht Club, which was founded in 1859 in Hobart, the club endured many lapses and name changes until, in 1908 a royal warrant was granted to the Royal Yacht Club of Tasmania.
The race is part of the Royal Hobart Regatta, this year marks its 180-year anniversary. It was founded by Sir John and Lady Franklin, who were great believers in encouraging learning and improvement. And as a form of relaxation and competition for the people of Hobart on the 1st December 1838, the Hobart Town Anniversary Regatta was held. On that occasion Governor Franklin provided free food and beer and the day was declared a public holiday, entry was free. Today entry is still free, and Regatta Day remains Australia's oldest public holiday still in use.
Footage of some early trading ketches racing at the Hobart Regatta can be found here Royal Hobart Regatta
Starting at 9.30 am from opposite the Regatta grounds, the Race is an 89-nautical mile circumnavigation of Bruny Island.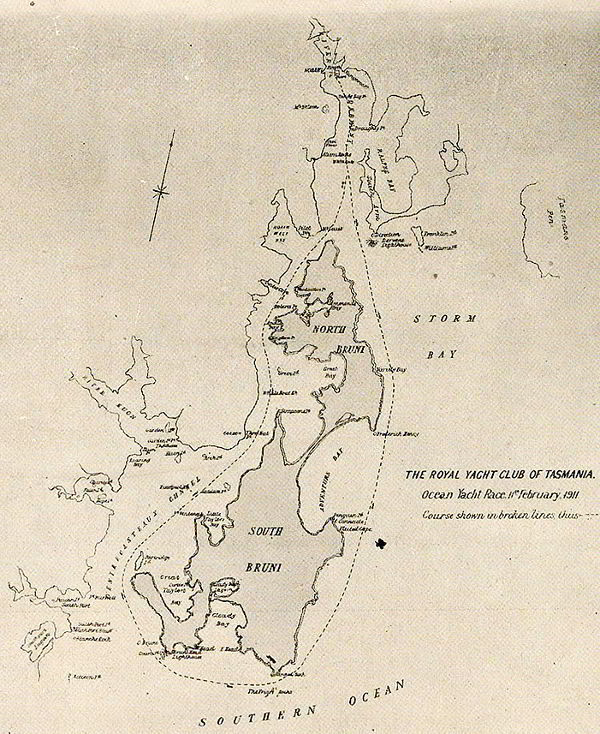 The first year it took near 24 hours, in 1904 the first yacht crossed the line at 6.28 am but in 1910 it was after 6pm in the evening. The current record of 8 hrs and 02 minutes was set in 2005 by Konica Minolta (NZ)
The prize pool in 1838 was small by today's standards. Eight enthusiasts raised the prize money by way of a local sweepstake topped up by public subscription; 1st prize £12, 2nd prize £6 and 3rd was £2. There were seven starters that year, Yawl Gift, Surprise and Maisie took line honours in that order. Clytie, Ella & Niobe, 3 Yawls took up the rear. The winner on handicap was Sunbeam, a yawl owned by a Mr. J Blackley and skippered by Mr. Percy Douglas. The sunbeam was a very old boat, a half decker. The crew were civil servants and had entered as a bit of a joke not intending to complete the course.
The 1902 race set off in very promising circumstances, only to encounter very heavy south westerly weather off the Friars. Two boats turned back Volant and Surprise, Maisie went outside the Friars and Mistral and Mabel attempted the inside passage. Mabel was lost on the way up in sensational circumstances leaving Mistral and Maisie to go it alone. Mistral won by two hours.
Mabel was built in Hobart by Charles Miller in 1885 for George Cheverton, who later became a land owner and saw miller on South Bruny Island. At the time of the wreck, Mabel was owned by A.A. Wilson and W.G. Eady, who along with E. Maher, P Hallam and G. Cheverton were on board.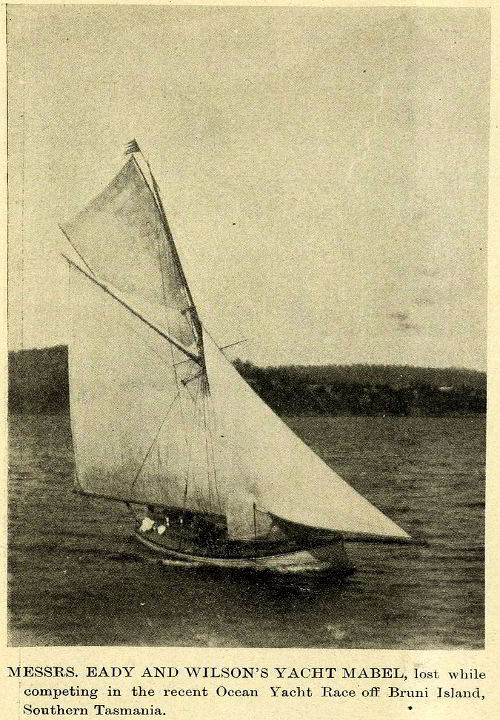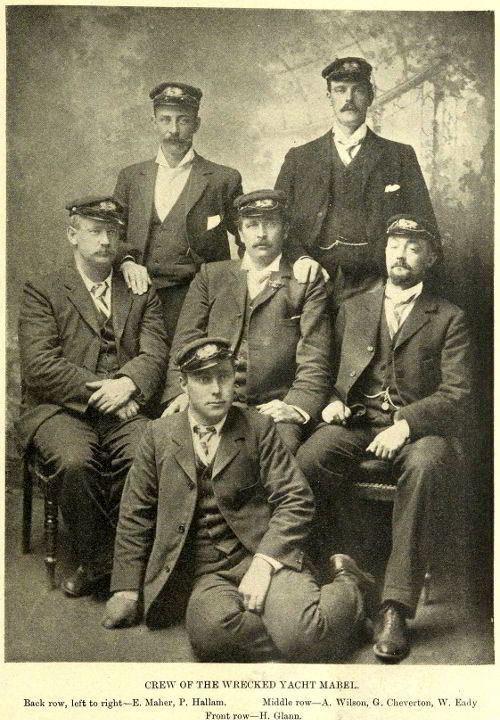 When Mabel was about 3 miles from shore she was battered unmercifully by relentless seas. She suddenly opened in her garboard streak (strake) and began to take water fast. They made a dash for the shore hoping to find an opening in the cliffs, fortunately a small beach showed ahead. Running ashore "with a quiver and a crash the gear came down". After securing the flag the crew scaled the cliff and made their way to the lighthouse" Read a firsthand account here.
Mabel's Bay is opposite Cloudy Bay and was previously known as Half Moon Bay.
The 1911 winner was Volant. "The Volant built for Mr Harry Denne by John Lucas at Dennes Pt was drawn to the water's edge by a team of bullocks and launched in 1890" Volant became known as the Pride of the Derwent and was recognised throughout Australia as the fastest craft of her day. She won 68 races including 35 trophies. She was converted into a fishing vessel in 1912. After many years working she also came to an ill-fated end. In 1978 she was wrecked on the rocks near Mutton Bird Island, Port Davey, fortunately with no loss of life.
Bruny Island has a rich maritime history, full of wooden boats, sailor's tales and fisherman's yarns.